Freja Ekman ('18, Chemical Biology) has been honored as one of this year's 30 recipients of the Paul & Daisy Soros Fellowship for New Americans, a highly competitive merit award that provides up to $90,000 for two years of graduate study in the U.S. Freja will use her award to continue working toward an MD-PhD in genetics at Stanford, where she is engaged in developing new genome editing tools for the treatment of hematological and rare genetic diseases.
Although Freja is finishing up her second year of medicine on The Farm (as a Knight-Hennessy Scholar), she freely admits with a broad grin that her heart still belongs to Cal. She wears Berkeley gear at the Big Game, and she bonded with half of her friends at Stanford because they were also Cal alums. She is grateful to have attended a public university with so much spirit. UC Berkeley loves Freja back, as evidenced by her selection as the 2018 University Medalist.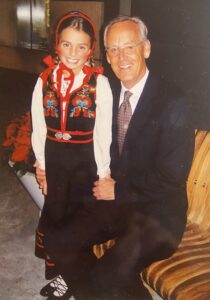 The Soros Fellowship honors the contributions to U.S. society by immigrants and children of immigrants. Freja was born in Germany to parents from Sweden and Norway. Her family immigrated to San Diego when she was five. She gradually learned English in school and felt that her different perspectives and quirky Swedish traditions were welcomed and valued by the communities she was part of. She noticed, however, that her brother—who has epilepsy, a hip disease, and high-functioning autism—struggled to gain acceptance. This personal experience sparked Freja's passion for both genome engineering research and disability advocacy. She is committed to simultaneously applying medical and social tools to reduce social barriers for individuals with intellectual and developmental disabilities (IDD) and is particularly concerned with the current disconnect between the development of novel gene therapies in academic research labs and their feasibility in clinical applications. The treatment of genetic disorders is plagued, she says, by off-target effects and autoimmune responses, the long-term effects of which are often neglected. "Being a New American showed me who I want to be in the healthcare system—someone who finds purpose and joy in getting to know individuals from different backgrounds, and who realizes the importance of sharing personal, yet often difficult, conversations."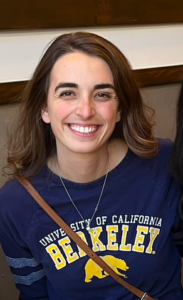 "What are the chances that I would end up going to the university where CRISPR was invented?" Freja marvels. She studied chemical biology with the specific hope of understanding how to harness basic chemical principles to better characterize the behavior of genetic mutations and engineer new genome editing strategies to target them. She worked in the laboratory of David V. Schaffer to develop new CRISPR-Cas9-based gene therapies to treat neurodegenerative disorders in vivo and had just graduated from Cal when her professor and CRISPR inventor Jennifer Doudna won the Nobel Prize in Chemistry. "If she can do it," Freja remembers feeling, "all other women can try to do it as well."
After graduating from Cal, Freja earned an M.Phil. in Translational Biomedical Research at Cambridge (as a Gates Cambridge Scholar) and gained the necessary skills to help bridge the gap between genome engineering and the pathophysiology seen in the clinic, work she is now building on at Stanford with Prof. Matthew Porteus in their effort to develop off-the-shelf cancer immunotherapy using genetically engineered iPSC-derived red blood cells.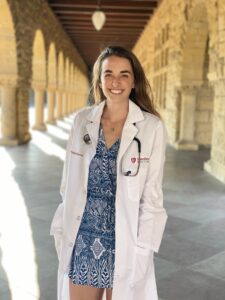 As a scientist-physician, a key component of Freja's research involves addressing the inequities experienced by the neurodiverse community through both the development of personalized therapies and disability advocacy. In parallel with her medical training and research, she is the co-head of the Developmental Disabilities Resource Consolidation Project, a Schweitzer Fellowship-funded undertaking to create a database of community resources that support people with IDD and their families.
Remarkably, Freja is the fifth Cal student who has been named as a Soros Fellow over just the last three years, a testament to these accomplished young individuals as well as to UC Berkeley's exemplary faculty and staff and its vast opportunities for undergraduates to engage in cutting-edge research and scholarship.
For more information about the P.D. Soros Fellowship, please visit this page of UC Berkeley's National Scholarships Office website and the Soros Fellowship website.