National Scholarship Recipients
Mrunali Manjrekar (Bioengineering/EECS, '23) is interested in the exciting research being conducted at the intersection of applied engineering biology and computer science working, in order words, at both the benchtop and the desktop. She plans to pursue a PhD in Computational Biology and credits UC Berkeley's amazing "landscape of opportunity" for providing the resources and opportunities to pursue her interests. She has worked in the Nielsen lab, seeking genetic markers to explain how a particular kind of frog is able to live at high altitudes in the Andes and is […]
Read More about Mrunali Manjrekar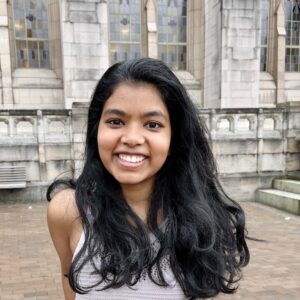 Naveen Durvasula is a sophomore majoring in Electrical Engineering and Computer Science (EECS) and Business Administration through the Management, Entrepreneurship, and Technology program at UCB. He's interested in problems at the intersection of computational learning theory, economics, and machine learning. After graduation, he intends to get a PhD in computer science and (one day) start a company.
Read More about Naveen Durvasula
Eden McEwen is a junior majoring in physics and astronomy. She hopes to be onthe forefront of the intersection of technological advancement and scientific discovery.Eden wants to help answer questions on exoplanet composition, black hole populations, and stellar dust disks by developing a new generation of more sensitive ground and space-based observatories. Eden has been active in the Society of Physics Student where she has served as Secretary as well as the publication STEMinist Chronicles, where she served as Treasurer and photographer. After graduating Eden wants to pursue a Ph.D. […]
Read More about Eden McEwen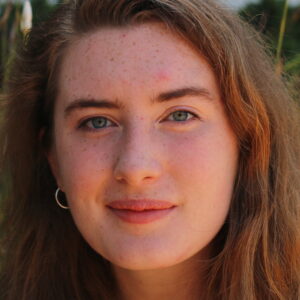 Casey Mogilevsky is a junior majoring in Chemistry. His work has helped lead to two submitted manuscripts involving protein-protein bioconjugates and CRISPR. He has also been working on a project which involves sequential site-selective bioconjugation reactions. Casey has been a volunteer and trainer of volunteers at UCSF Benioff Childrens Hospital. Additionally, he has served as Director of Tutoring with PEACE A campus organization with the mission to combat the hyper-competitive environment of college. After graduation from Cal, Casey will pursue an MD/Ph.D. dual degree in medicine and biochemistry. In the […]
Read More about Casey Mogilevsky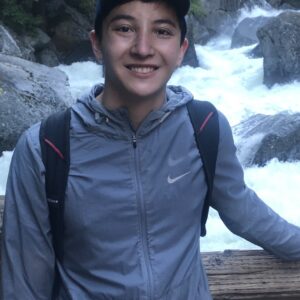 Rahul Sahay is a junior majoring in physics and mathematics at UC Berkeley. have been involved with two research groups: Kam-Biu Luks high energy experiment group where his research is centered around the optimization of a detector in the internationally collaborative DUNE experiment. In 2019 Rahul joined Norman Yaos condensed matter theory and atomic experiment group. Rahul serves as the vice president of the UC Berkeley of Physics Students where he created the first undergraduate seminar series for the Department of Physics. He was also the recipient of the Isadore […]
Read More about Rahul Sahay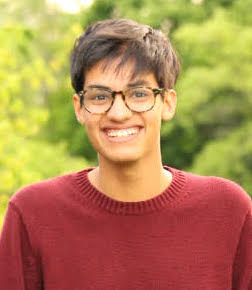 Bhavish dinaker, from Stanford, CA, is a senior studying Chemical Engineering with a triple minor in Mathematics, Physics and Computer Science at the University of california, Berkeley. Bhavish is passionate about protecting the earth from climate change. He is invovlved in the UC Berkeley Biofuels Technology Club, which is a student organization whose goal is to convert waste cooking oil into biodiesel to power campus transit. Additonally, Bhavish is involved in two UC Berkeley research labs. Bhavish hopes to pursue a Ph.D. in Chemical Engineerng in his future.
Read More about Bhavish Dinakar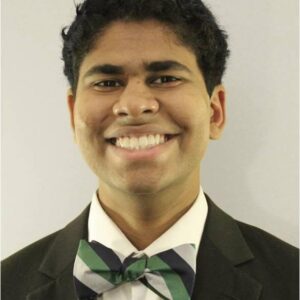 Connor J. Tou is amajor inbioengineeringat UC Berkeley. A Goldwater scholar and a Rose Hills fellow, hewas a key player in pioneering a CRISPR-based genetic diversifier termed EvolvR, which forms the platformbiotechnology of a Berkeley-based startup. He has published in the prestigious journal Nature and is currently drivingEvolvRs translation to eukaryotic organisms. He is first author of an upcoming manuscript. As a CPRIT-CURE scholar atMD Anderson Cancer Center, Connor discovered novel chemical inhibitors of a cancer-linked dealkylase and a denguevirus nuclease work which will also result in an upcoming publication. […]
Read More about Connor Tou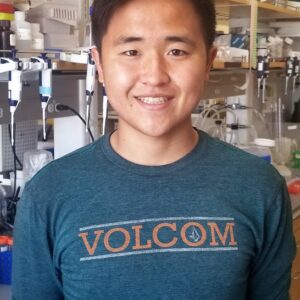 Brighton Skeel is a junior majoring in Chemistry at U.C. Berkeley. Brighton will pursue a Ph.D. in Inorganic Chemistry in graduate school. He hopes to one day teach Chemistry at the university level and conduct research in the field of Inorganic Chemistry. The will allow Brighton to the opportunity to both teach and mentor the next generation of chemists and lead a team of researchers in pursuit of new catalytic systems.
Read More about Brighton Skeel
Alexandra Brown, is a junior majoring in chemistry at U.C. Berkeley. She works as an undergraduate researcher with the Arnold Group pursuing study of inorganic and organometallic aluminum complexes. Alexandra has been a peer advisor for the Chemistry department, is president of the Womens Rugby Club, and is a leader in the LGBTQ science community. After completing her undergraduate degree, Alexandra will pursue a Ph.D. in Chemistry. She hopes to conduct research in inorganic chemistry upon completion of her graduate studies and teach at the university level.
Read More about Alexandra Brown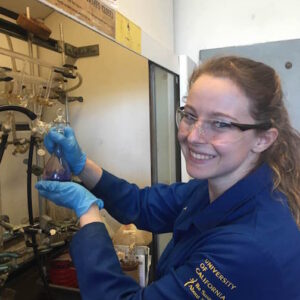 Chun Man Chow is a senior double majoring in chemical engineering and environmental engineering science. He will commence a Masters degree program in Advanced Chemical Engineering at the University of Cambridge in fall 2016. Chun Man is a UC Berkeley Regents and Chancellors Scholar, a Cal Alumni Leadership Scholar, a Society of Chemical Industry Scholar, and a Barry M. Goldwater Scholar, among other honors. He served as a research assistant in the Gadgil Lab for Energy and Water, a research intern through the Cal Energy Corps Program, and as an […]
Read More about Chun Man Chow
Alwin is majoring in Astrophysics and will be a senior in fall 2015. He hopes to attain a Ph.D. in Astrophysics and perform research and teach at the university level. He has made the Dean's Honors list twice. Alwin has been a research assistant with the Harvard-Smithsonian Center for Astrophysics, studying tidal disruption in dwarf spheroidal galaxies around the Milky Way, and with North Carolina State University, where he adapted VH-1 to simulate and evolve models of 1.4 solar mass Type la Supernovae and developed a code to determine a […]
Read More about Shengkai (Alwin) Mao
Nicole Schauser is an incoming senior studying Materials Science Engineering. She plans to pursue a Ph.D. in this field with a research focus on materials for renewable energy technologies. Her career goal is to perform industry-based research on photovoltaics or energy storage devices to help mitigate climate change. She has been involved in two research groups at UC Berkeley, studying 3D laser scanning techniques and also dendrite grown in lithium solid polymer electrolyte batteries. Nicole was a Summer Intern for Next Energy Technologies, where she researched efficient methods for depositing […]
Read More about Nicole Schauser
Katherine Amberg-Johnson 2012-2013
Andrew Vanderburg 2012-2013
Madhvi Venkatesh 2009-2010
Matthew Breindel 2007-2008
Laura Lagomarsino 2007-2008
Heather Bischel 2004-2005
Nathaniel Singer 2003-2004
James Hendricks 2000-2001